Jeremy of
Topps Cards That Never Were
initiated a trade last month and came through with some really neat stuff to include a nice stack of set needs and even some customs. Let's check them out!
Before we get to the cards, Jeremy included a 2011 All-Star Game ballot. This will go nicely with my 2011 All-Star Game exclusive program. I didn't attend the game, but a friend who did generously bought an extra program for me.
Jeremy also included a pin from the D-Backs inaugural game in 1998. Pins are very collectible in some circles. I think they're pretty cool and have two of Steve Finley while he was on the D-Backs. Now that my accumulation of pins is turning into what looks like a mini collection, I need to figure out a way to display them. If anyone has any recommendations, please let me know!
I've been working on the 1997 Collector's Choice The Big Show insert set for a while now. This 45 card set has been pretty easy to piece together considering each pack of 97 CC came with one card from this set. The World Headquarters Edition (or variation) is a little more rare and came one in every 35 packs.
The last two inserts Jeremy sent were set needs for Ultimate Victory and UD Ionix, arguably my top two favorite sets of 1999 and 2000. The Shockwave inserts look really awesome in person, and this Jeff Bagwell completes my set! I know have all 15 Shockwave cards. Stay tuned for a post covering the set!
The Lasting Impressions sets is also very appealing with its glossy finish and intriguing foil. I love that this set includes an action shot in the front with a player portrait in the back. The gold "Ultimate Victory" Stamp on the top right corner of the card makes it feel like a high end production of its time. The great thing about it all is that it's such an affordable yet collectible product.
All of these Randy Johnsons are new to the collection. I love Heritage chrome, and the 2003 Heritage black background variation fits perfectly next to the base version which has a green background.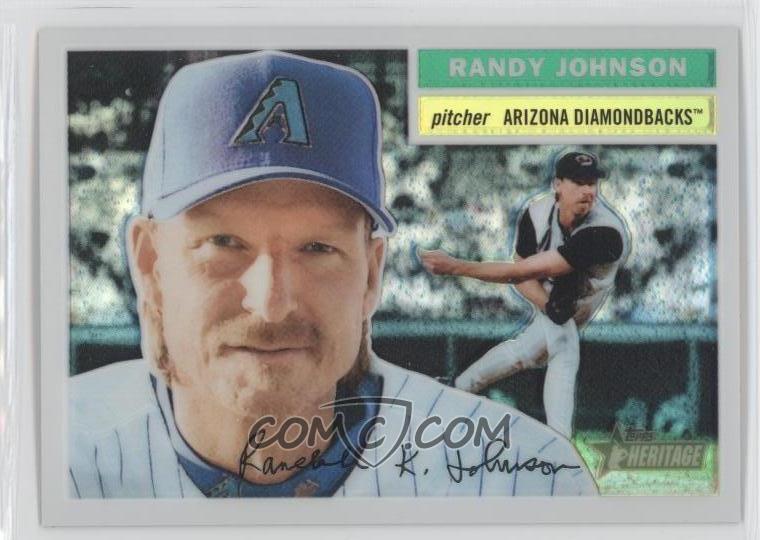 While writing up this post, I made an interesting observation about the 2005 Heritage Chrome card Jeremy sent me. The Chrome and Refractor version of #200-Randy Johnson has him in a D-Backs uniform while the base version has him in a Yankees uniform. And not only that, if you look more closely at the background, you can see that a dugout is shown behind the Big Unit as a D-Back, but that is no longer the case when looking at the base card. Instead, it shows a blue wall, representative of Yankee Stadium. Now this was obviously photoshopped or airbrushed or whatever because the images are essentially exactly the same, but I thought it interesting that someone would go as far as brushing out the dugout to make it seem like he's pitching in Yankee Stadium.
Another interesting note is that Randy Johnson went to the Yankees between the 2004 and 2005 seasons, and 2005 Heritage was released in February of 2005. Based on this information, the card was probably already drafted up prior to Johnson going to the Yankees, and most likely the chrome, refractor, and black refractor parallels were already produced. It's also likely that Topps produced the card parallels before producing the base set since Johnson is seen wearing a Yankees uniform in the base set. I wonder why they produce cards from a major release in the order. Maybe there's more work involved because of the additional material? Who knows?
Jeremy was a big help in adding to my Steve Finley PC. Now that I've eclipsed 600 unique Finley cards, it gets harder and harder to to find new additions that aren't expensive. This 2003 Donruss Champions Sample card was a great find as sample cards often end up being pretty hard to come by.
Also included was this 1998 CMC Triple A All-Stars pre-rookie card. I've been wanting to add this to my collection for some time. I even had it saved in my Sportlots shopping cart for a while, but now it's in my collection thanks to Jeremy.
Luis Gonzalez cards are always a welcome addition to the collection. I'm tip-toeing towards fully committing to super collecting Gonzo, but I can't get myself to do it just yet. After his breakout season of 57 homers with the D-Backs, card companies produced oodles of his stuff, so it's much more easy to come by than cards of Steve Finley. He also continues to sign autographs in Topps products today, so finding affordable autos is not difficult.
Jeremy continued to chip away at my collecting categories, this time with D-Backs Topps Gold sets.
And D-Backs Refractor sets.
And he even included some super cool, super colorful parallels.
And last, but certainly not least, Jeremy created some really awesome customs of Steve Finley and current D-Backs manager Torey Lovullo.
I absolutely love that Jeremy created a 2008 Topps "sunset" card for Steve Finley. A card that never was, but is now in my collection.
Thanks so much for the cards, Jeremy.
Thanks for stopping by!